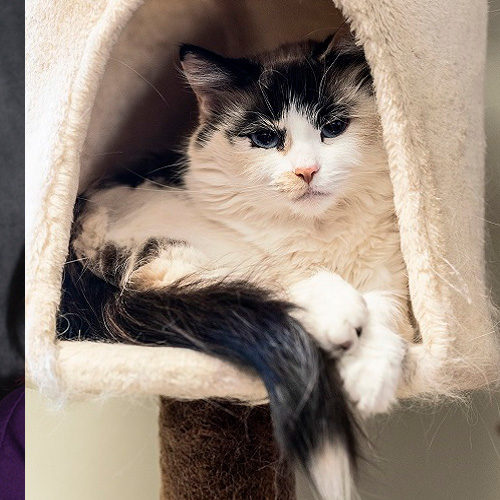 Audrey was adopted by the clinic in the fall of 2018. She quickly took her place at the top of the management tree and is the true boss of the clinic. During the day you can find Audrey leisurely napping in the management office. Her favorite hobbies include jamming up the printer, chasing the mouse on the computer screen, and knocking papers off the desk. Audrey is very good at her job – she always seems to know when someone is having a rough day and makes sure to give them extra love. We are very happy to have Audrey as our "Boss Lady".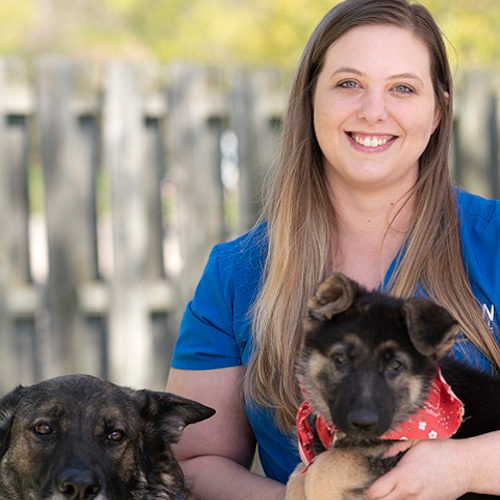 Growing up on a farm in Dansville, MI, Jess developed a love of animals very early on. Shortly after high school, she started working for Dr. Patterson as a receptionist. She has done every job from kennels to assisting in surgeries and is now the Practice Manager for the clinic. Jess started off going to school for Veterinary Technology but after taking business and human resource management courses, she changed her path. She is now a member of the VHMA and SHRM and is continuously trying to improve the clinic for both clients and team members. Jess currently lives in Mason with her family and enjoys spending time with them and friends when she is not at work.
Own Pets: "We have a German Shepherd named Krieger, two Maine Coons named Savannah and Soloman, and a black kitty named Chubbs. We will be adding another German Shepherd puppy to the family mid-April and his name is Xander Beans. (My 4-Year old daughter picked out his middle name)"
Favorite Animal: "Horse. They are strong, majestic creatures. The trust and communication that goes into having a bond with a horse is truly an amazing thing to experience."
What is the most inspiring part of your job?: "The people. The people that devote their lives to caring for and helping animals that could never repay them are the most amazing, compassionate, inspiring people that I have had a chance to meet. I feel lucky to be in a position to work with and help to take care of those people."
Favorite Quote: "The most difficult thing is the decision to act, the rest is merely tenacity. The fears are paper tigers. You can do anything you decide to do. You can act to change and control your life; and the procedure, the process is its own reward." -Amelia Earhart
Amber started her career in veterinary medicine at the age of 14 when she started working at a rescue in California. She fell in love with the profession and has never wanted to leave since! Amber and her family recently adopted 3 Kittens – Frankie, Joey, and Baxter. She also has another cat named Dawg and a Golden Retriever named Max. When she is not at work, she enjoys spending time with her family and her two sons.
What do you like about working at PVH?: "Having an amazing and passionate team and bosses"
Favorite Animal: "Tigers/Cats – They are such majestic animals"
Fun Fact: Amber loves jeeps!