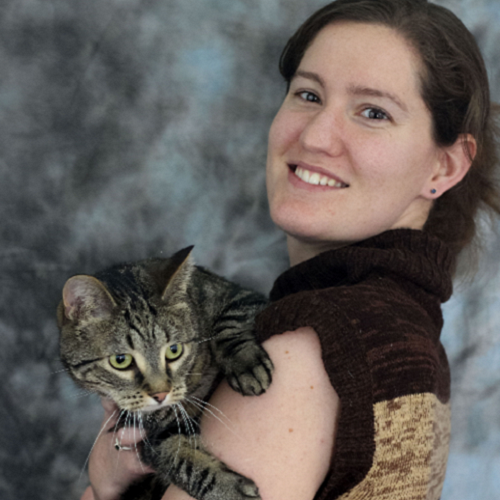 Originally from Ohio, Dr. Kat "escaped" to Michigan to obtain a B.S. in Animal Science, DVM, and M.S. in Food Safety through MSU. She is a member of the Veterinary Dental Academy and has a special interest in dentistry. Dr. Kat became a veterinary professional because she loves animals and wanted to make a difference in their lives. Now she loves the challenge that Vet Med provides. When she is not working, Dr. Kat enjoys reading, spending time with her daughter and husband, and eating good food.
Own Pets: "4 ducks, 3 horses, 2 dogs and too many cats – but we love them all dearly!"
What do you like about working at PVH?: "We have an amazing team who all cares about our patients as much as I do."
Favorite Animal: "Cats, because they often get forgotten."
Most inspiring part of your job?: "Helping to teach our clients how to best care for their pets."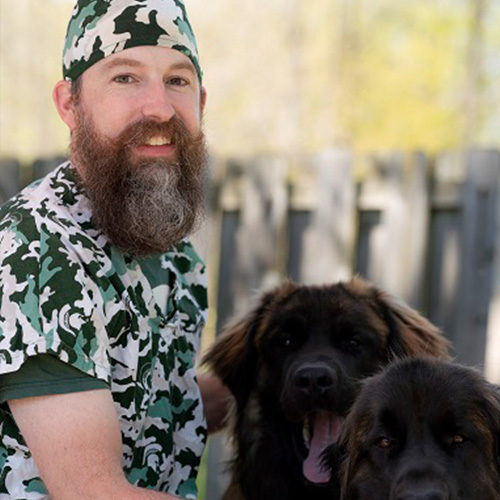 Dr. Jason is a Veterinarian and Practice Owner of Paterson Veterinary Hospital. He went to MSU for undergrad and vet school and has been in the veterinary industry for 19 years. Dr. Jason grew up in Mason – where he still lives with his family that includes dogs, cats, ducks, and horses. He has worked for Patterson Veterinary Hospital since 2001 and had the opportunity to work with Dr. Patterson for almost 15 years before he retired. When he is not at work, Dr. Jason enjoys spending time with his family, reading books, playing games, and going to football games.
What do you like about working at PVH?: "The staff here are passionate about veterinary medicine and support each other during the inevitable sad or frustrating cases. Their enthusiasm makes what we do fun."
Favorite Quote: "If you trust in yourself… and believe in your dreams…and follow your star…you'll still get beaten by people who spent their time working hard and learning things and weren't so lazy." -Terry Pratchett
Favorite animal: "There are too many to pick from – I can't even decide if I'm a cat person or a dog person. If you mean a particular individual, my old dog Leonidas (RIP) is a pretty easy choice."
Advice for someone going into the veterinary industry: "It is financially and emotionally taxing – vets have one of the highest rates of suicide of all professions, so a career in Vet Med is not a decision that should be made lightly. Despite all this, it can be extremely rewarding."
General medicine DVM for dogs, cats, and pocket pets
Dr. Anne grew up in Ann Arbor and went to Michigan State University. She has practiced "mixed animal" in NH and ME, small animal practice in PA, lab animal practice at Purdue University in IN, and research in the industry at Pfizer in Ann Arbor. Dr. Anne has 40 years of experience in the veterinary industry and has worked at Patterson Veterinary Hospital for 11 years.
What do you like about working at PVH?: "Good quality medicine, access to most diagnostics and treatment for general veterinary care. Teamwork and collaboration."
Most inspiring part of the job: "Seeing a patient respond to treatment. There's never a dull moment!"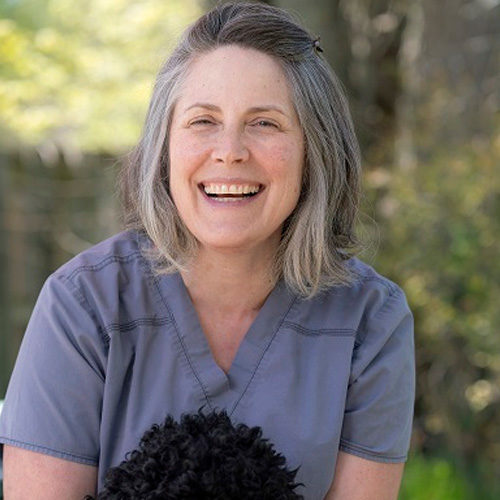 Dr. Julie Robinson spent a lot of time on her grandparents' Saline, Michigan farm while growing up, and it was there that her adoration for animals was born. Her life-long fascination with science, the natural world, and the intense bonds between humans and animals made one thing very clear: Dr. Robinson was destined for a career in the animal-care industry! She's been a member of the Patterson Veterinary Hospital team for over a decade.
Dr. Robinson is from Ann Arbor, Michigan, and received Bachelor's and Master's degrees in the liberal arts from the University of Michigan. Just before she planned on starting law school, Dr. Robinson spent a semester teaching at a school for field studies, which reminded her of her innate love for science. The pull of the veterinary field didn't let up – Dr. Robinson decided to change her path and signed up for veterinary school shortly thereafter.
Dr. Robinson joined the Patterson Veterinary Hospital family in 2004. She's especially fond of doing behavior consultations to make pet owners' lives more enjoyable, exploring and supporting the human-animal connection, and using alternative care methods to improve pets' quality of life. Most of all, she likes developing personal relationships with clients and their pets to facilitate a true bond between caregiver and pet owner.
In her time away from work, Dr. Robinson enjoys hiking, swimming, biking, and practicing yoga. She lives with her husband and five children; as a family, they enjoy traveling, playing together, cooking, and gardening.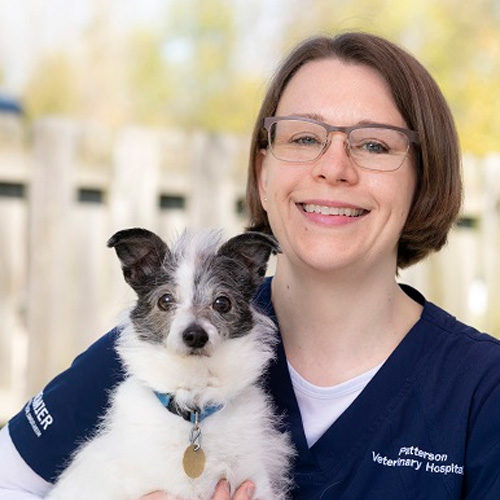 Dr. Scholl went to undergrad at Michigan State University, then attended Ross University in St. Kitts, West Indes for vet school. My kids are my dog, Elvis, and 2 cats – Anna Belle and Willie. She is currently a Veterinarian at Patterson Veterinary Hospital with a special interest in cardiology, dermatology, and surgery. When she is not working, Dr. Scholl enjoys swimming and biking and other outdoor activities. She has also done sprint triathlons and DALMAC Bike tour for fun.
Own Pets: "Terrier mix, small dog, named Elvis. 2 cats named Anna Belle and Willie."
Why did you become a veterinary professional?: "Because I loved animals and science growing up. I wanted to help pets get better."
Favorite animal: "Dogs are my favorite animal because they are loving, lovely; They are man's best friend. Don't judge and are a great companion."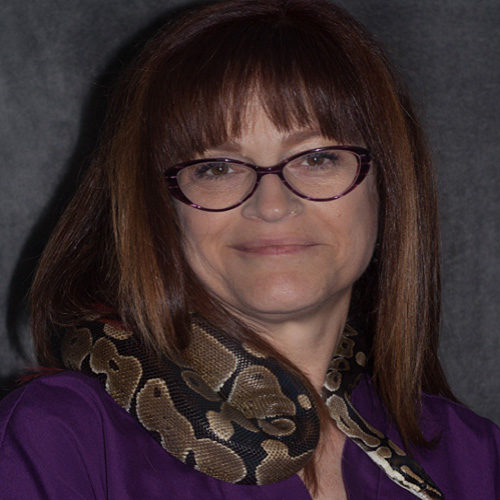 Cat Whisperer & Reptile Wraggler
Dr. Gretchen is an Associate Veterinarian, especially interested in cat health issues and works with exotic pets like small mammals and reptiles. She grew up in Southern California, obtained her Bachelor's in Zoology at UC Berkley, a Masters in Biology at CMU, and graduated from MSU in 1994 with a Doctorate of Veterinary Medicine. Dr. Gretchen is married to her husband, Brad, and has 4 adult children. When she is not working, she enjoys cooking, baking, canning, reading Sci-Fi/Fantasy, Gardening, hanging out with her kids, and going to rock concerts.
What do you like about working at PVH?: "The staff is great! They're eager to learn, compassionate, skilled, trustworthy and a lot of fun. Management is also the best I've ever worked for – responsive, compassionate, and committed to always getting better."
Favorite memory from PVH: "Honestly my favorite stuff is the little things; laughing till it hurts with staff, giving good news to owners & even making sure that a euthanasia goes peacefully for everyone involved."
Favorite Animal: "It's a 3-Way tie! Cat/Ferret/Snake. Cats & ferrets are actually a lot alike & rather still wild. I've just always loved snakes – caught my first snake when I was 2 ½ years old!"
Own Pets: Nalla (Bengal), Thomas O'Malley the Alley Cat (Orange & White DSH), Noodles (Brown Tabby DSH), Bianca (Black & White DSH), Bean (Ferret), Gulliver (Ball Python), Hela (Carpet Python), Laghairt (Blue Tongue Skink)
Favorite Quote: "I'd rather be good than nice" –Granny Weatherwax (Sir Terry Pratchett)